PRESENTED BY DIGITAL FORENSICS (4N6) PUBLICATION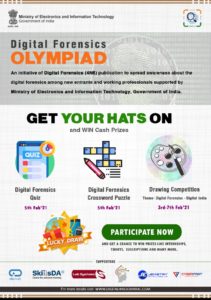 THERE IS NO ENTRY FEE FOR ANY COMPETITION
DRAWING COMPETITION -03 FEB TO 7 FEB
Entries should follow the given theme "Digital Forensics – Digital India"
Open to all age groups
Participation certificate for all the participants
Drawing specifications:
 Size: A4 sheet
 Colouring material: Your choice.
Ideas: The sky is the limit to your creativity.
Originality will be appreciated; no copyright violation will be entertained.
Experimental and mixed techniques are welcome
How to send: Please scan your drawing and send us the JPG format (size limit: 4 Mb) to [email protected]
Last date for submission: 7th Feb by 4.00 p.m. 
DIGITAL FORENSICS QUIZ – O5 FEB
Link to attend Quiz – Copy it to browaser


https://survey.zohopublic.com/zs/mrB3Me

30 questions in 15 minutes
Negative marking
DIGITAL FORENSICS CROSSWORD PUZZLE – 05 FEB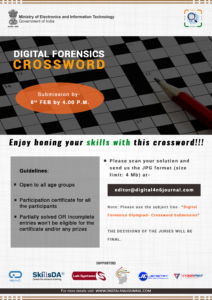 LUCKY DRAW
PARTICIPANTS FROM ALL COMPETITIONS WILL BE PART OF LUCKY DRAW BY DEFAULT
PRIZES
Quiz: Cash Prize: Rs. 1000, Rs. 750, Rs. 500 and winner certificate
Crossword: Cash Prize: Rs. 500 each and winner certificate
Drawing Competition: Cash Prize: Rs. 1000, Rs. 750, Rs. 500 and winner certificate
Lucky Draw: 
3  x T-Shirts
3 x  Internship with Digital Forensics
3 x 1-year subscription of Digital Forensics (4N6) publication